April 05th, 2010
Youth Movement Records' artists Princeton and Greater Than One will be performing at Youth Service For Change's Dance for the Future event, this Saturday, April 10th in San Francisco.
Dance For The Future will be a night full of live music and dancing open to teens across the San Francisco Bay Area. There will be non-profits focusing on a wide range of issues at Dance For The Future to talk with teens about ways of getting involved and opportunities with in the community.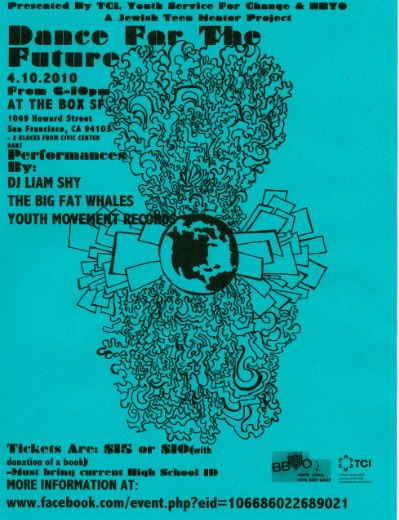 All proceeds from tickets benefit Youth Service For Change, an up and coming non-profit that acts as a bridge between teens and local organizations. We match volunteers based on their interests and passions to non-profits in need within the Bay Area. Please help us create this vision!
***Tickets are $15 dollars or $10 with donation of a gently used or new children's book***
All books collected at the event will go towards building Vincent Academy, a public charter elementary school in Oakland, it's very first library. Please help give these children a chance to experience story time and create literacy skills which will last them a lifetime.
For more information, please see the Facebook invite here.