February 01st, 2010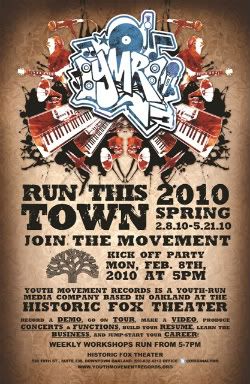 MONDAYS
LEADERSHIP COLLECTIVE MEETINGS
@ 5PM, ROOM 302
Learn about the entertainment business through work on exciting projects and events. Share your ideas to guide the future of YMR.
COMPANY MEETINGS
@5PM, Dates TBA
Come meet professionals in the industry during scheduled guest presentations. Find out about performance, travel, and event opportunities.
VIDEO PRODUCTION
@ 5:30PM, ROOM 257
Get paid to learn how to shoot & edit video.
TUESDAYS
MUSIC PRODUCTION
@ 5PM, ROOM 257
Learn Reason, Music Theory, Mixing & Mastering.
DJ CREW
@ 5PM, ROOM 306
Get on the 1's and 2's of the Dubplate Transformers (DPT) Crew! Become a part of the crew, get booked & get paid to gig!
WEDNESDAYS
PROTOOLS
@ 5PM, ROOM 257
Become a YMR Engineer & get paid to run sessions for your fellow YMR members.
FREESTYLE
@ 6PM, ROOM 306
Emcee with the best of them. Learn how to step your improv skills up!
ARTIST DEVELOPMENT II
@ 5:30PM, By Appt, Rm 302
Rehearse and improve your stage skills.
THURSDAYS
VOCALS
@ 5PM, ROOM 302
Get your vocals up, learn music theory, sing in a group and prepare for the studio & the stage.
PIANO & GUITAR
@ 5PM, ROOM 306
Learn how to play songs on the piano & the guitar and prepare to be in the YMR band.
FRIDAYS
OPEN LAB & STUDIO
@ 3PM - 7PM, ROOM 257 & STUDIO ON 3RD FL
Come work on your craft, edit video, book studio time, make beats, etc.
ARTIST DEVELOPMENT I
@ 5PM, ROOM 302
Learn all about a career in the music industry, meet professionals, hone your craft and prepare for success as a music artist!